Holiday villages
by the sea
at
Saint-Hilaire-de-Riez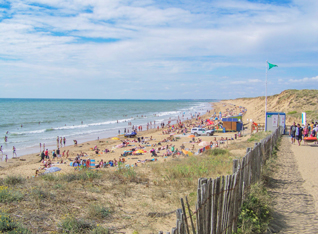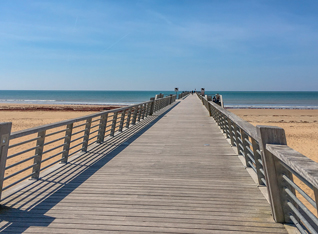 Residence at 900m
from the sea
A single watchword: REST!
Come and recharge your batteries with your family or friends and rediscover your childlike spirit by the sea or in the forest surrounding the Hameau de l'Océan!
Our holiday village**** by the sea is made up of 42 single-storey residences spread over 2 hectares. From our Holiday Village **** located in the Vendée, you will enjoy long stretches of sand and a seaside only 900 m from your residence.
For your entertainment, everything is close to your seaside residence. Discover Saint-Gilles-Croix-de-Vie and its fishing port, Saint-Jean-de-Monts and its beach ideal for lazing around, shops, aquatic centres such as Océabul, Atlantique Toboggan, accro-branches feeling forest, leisure activities for every age.
In our holiday village ****, 900m from the sea, you can take advantage of our indoor swimming pool heated to 28°, the bar, the entertainment, a snack service (bruschettas, aperitif board on land or sea, chips, waffles, ice cream…), tennis, table tennis… Here you will have access to everything. You don't want to leave the structure? No problem, we are here to take care of you.
Activities in Saint-Hilaire-de-Riez
The seaside, with its iodine air, will provide you with all the resources you need to rest and feel good during your holiday. Indeed, you will be able to do all sorts of activities, from fishing, surfing, water-skiing, boat trips, jet-skiing, as well as beautiful walks on our beautiful beaches.
Want to do nothing? Then put down your beach towel and enjoy a day of sunbathing, water games and picnics.
You can also take advantage of the many local markets in the towns of Saint-Hilaire-de-Riez, Saint-Gilles-Croix-de-Vie and Saint-Jean-de-Monts in the vicinity of our 4**** seaside holiday village.
The beaches near
the Village Vancances
Huge sandy beaches are close to the holiday village Hameau de L'Océan. On foot, by bike, by car, everything is possible, 900 m separate us from the Atlantic Ocean. The beach of La Parée Préneau is a magnificent site with a stretch of sand as far as the eye can see. You can see the island of Yeu and Saint-Jean-de-Mont during long walks with your feet in the water. Heading south, the coast is more rugged and you can enjoy the wild cornice.
Beautiful walks by the sea are to be expected, not to mention the many ports nearby, notably Saint-Gilles-Croix-de-Vie, whose port is famous for its sardines.
Our holiday village is located in an authentic Vendée area, proud of its history. Excursions to the seaside are highly recommended, they will allow you to enjoy, alone, with your family, or with friends, the richness of the local heritage.
Come and taste the freshness of the Atlantic Ocean which is full of marine surprises to discover! On foot or by bike, you are only a stone's throw away from happiness, so don't hesitate, join us and let yourself be carried away by the Vendée way of life!
By the sea, you can swim, take advantage of the various activities organised by the town of Saint-Hilaire-de-Riez, enjoy the cycle paths that run along the entire Vendée coast, from the beaches of Saint-Gilles-Croix-de-Vie to Saint-Jean-de-Monts, a real pleasure for young and old, with your partner or family…
All you have to do is bring your swimming costume, sun cream, hat and sunglasses and for the rest, enjoy the moment!

Swimming pool and activities in the Vendée