Rent a residence in Saint-Hilaire-de-Riez
T2

T3 A

T3 B

T3 C

T3 D

T3 L

T4

T5
Our rental residences in Saint-Hilaire-de-Riez
The Village Vacances **** Le Hameau de l'Océan is built in a 2 hectare pine forest with trees and flowers.
The landscaped park is made up of 42 single-storey residences that can accommodate from 2 to 10 people at the best value for money.
All these rentals are spread over 10 buildings scattered throughout the pine forest. The residences have a private terrace, with garden furniture and parasol, as well as relaxing chairs.
A parking space is allocated free of charge to each accommodation (two spaces for the 9 and 10 person residences). For everyone's safety, there are no cars in the village, you are in the middle of nature and your children can play freely.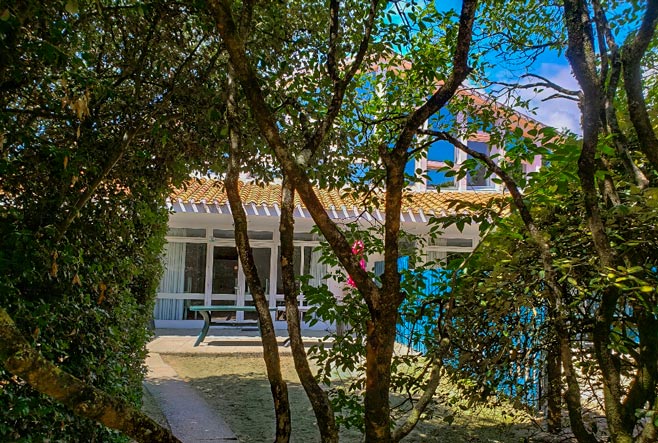 Our residential ranges in
the Vendee
Nature reigns supreme at the Hameau de l'Océan and you are its privileged guests. You will quickly feel its beneficial effects during your stay!
Our Holiday Village **** offers a wide choice of rental residences for all tastes and budgets. You will have to choose a Residence facing the forest or close to the swimming pool and the playground.
You can choose from 8 categories of rental residences ranging from 30 m² to 85 m² and accommodating 2 to 10 people. You will find a living room with television, an equipped kitchenette, a bathroom, separate or separate toilets depending on the category and a private terrace surrounded by your loved ones in the middle of a pine forest.
Are you dreaming of staying in a charming, fully-equipped residence, alone or as a couple? Let yourself be seduced and book our Comfort Résidence or New Design.
Are you coming to spend your holidays with your children? Choose one of our 5 categories of 4 to 7 persons composed of 2 bedrooms to satisfy all desires and meet everyone's expectations!
The family is growing and a third bedroom is needed? You will have to choose one of our two 9-person residences with a mezzanine for a little more comfort.
Do you want to get together with your family, grandma and grandpa or with friends? Our 2 Residences for 10 people will allow you to gather in the same accommodation with a little more comfort and space.
Follow your desires and choose your residence!
Swimming pool and prices in Vendée